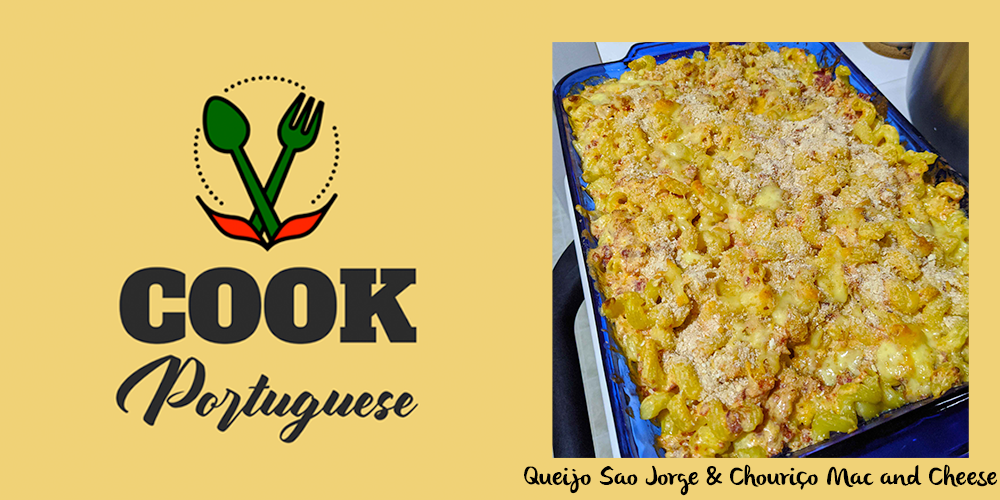 Queijo São Jorge & Chouriço Mac and Cheese
Our friends at Two Azorean Chicks whipped up this epic dish starring two of our favorite flavors:  Chouriço and Queijo São Jorge!  
1 pkg of elbow macaroni (or your favorite paste space will work!)
1 lb of ground chourico (We love Michael's!)
1/4 cup of butter
1/3 cup of flour
2 1/2 cups cream (or milk if you want to lighten it up)
4 oz. Topo Sao Jorge Cheese-shredded + 2 oz shredded top melt on top
8 oz. of Extra Sharp white cheddar-shredded
1 teaspoon of kosher salt
1 teaspoons of pimenta moida (Corisca is spicy!  and delicious!)


Cook macaroni to the directions on the box, once done reserve about 1/2 cup of water for sauce.  Pre-heat oven to 400 Degrees

Melt the butter on med-low heat.  Once melted add in the flour and whisk until smooth.  Let it cook for a minute or two to break up the starches.

Whisk in cream slowly.  Continue to whisk until smooth.  Add in salt  and pimenta moida and whisk.

Add in cheese and continue to stir until completely melted.

Add in chourico and let it simmer on low for about 3-4 minutes.

Add cheese sauce to macaroni and combine completely.  If your sauce is too thick, add in some of your reserved water until the sauce is the consistency you'd like.

Once completely mixed, put into a 9x13 pan and top of Quiejo Sao Jorge and bake for about 10-15, just enough to get your cheese nice and melted.