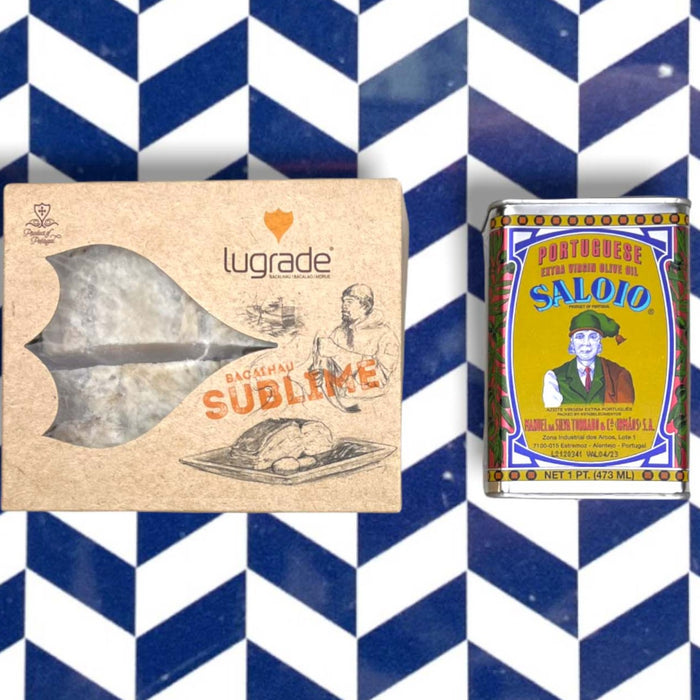 Bacalhau Kit (Olive Oil and 2.2lbs of Salted Dried Codfish Loins)
Original price
$ 59.99
-
Original price
$ 59.99
We've paired two of our most popular products, Salted Dried Codfish Loins by Lugrade (2.2lbs) and Saloio Brand Extra Virgin Olive Oil (1PT Can) in one convenient package.  
In Portugal, it is said there are more than 365 ways to cook bacalhau, one for every day of the year; Now you can enjoy any of the 365+ dishes from your own home with our Salted Dried Codfish loins imported from Portugal. Cod Loins are the prime cut of a codfish which is cut from the middle.


1 package of Salted Dried Codfish, 2.2lbs each box
Each box wrapped in plastic and shipped chilled, not frozen
Refrigerate when the Cod arrives
Please allow 3-5 days to soak before consuming. Directions included
Saloio Extra Virgin Olive Oil has been a staple in Portuguese kitchens for generations, and now you can enjoy the taste of Portugal in your very own kitchen! Great for everyday cooking or for something a little more special.
Olive oil comes in a tin can.
1 Pint
Imported from Portugal with ❤️