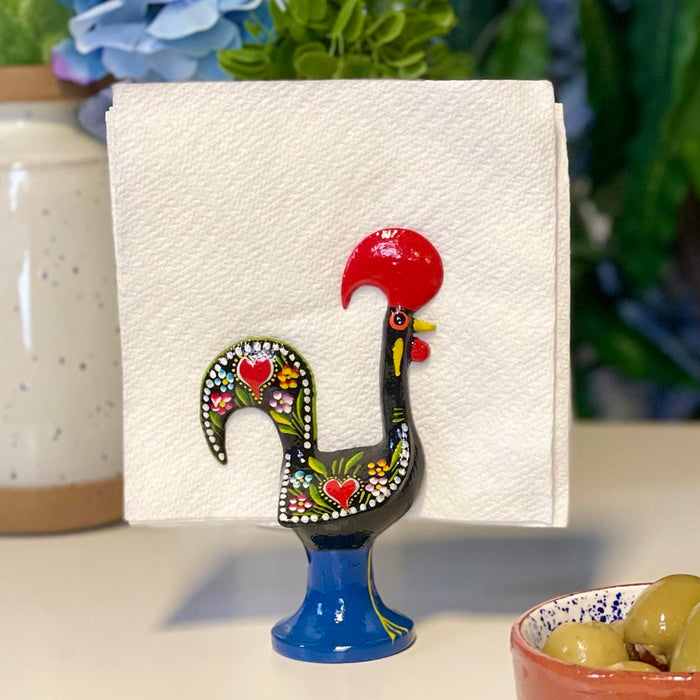 Barcelos Rooster 6" Napkin Holder (Metal)
Original price
$ 19.99
-
Original price
$ 19.99
The Galo de Barcelos, the unofficial symbol of Portugal, is one of the most recognizable Portuguese icons. Meant to signify good luck, the Barcelos Rooster, as it's also known, makes a welcome addition to any home decor. These Rooster Napkin Holders will make a great addition to your kitchen or dining room table and they are imported from Portugal, made with old world craftsmanship.
NOTE:  Because they are hand painted, some slight variations may occur in the final design.
Glazed die cast metal.
Hand painted.
6" inches tall.
Product is hand made and imported from Portugal... and made with a little extra Portuguese love.
DESIGNS MAY VARY SLIGHTLY FOR CANADIAN ORDERS.
Brief History of the Galo De Barcelos:  At a banquet given by a rich landowner in Barcelos, Portugal, a valuable piece of silver was stolen and one of guests was accused of the theft. The thief was tried by the court and was found guilty. In spite of the overwhelming evidence against him, he still protested his innocence. The magistrate granted the man a final chance to prove his case. Seeing a cock in a basket nearby he said, "If I am innocent, the cock will crow." The cock crowed and the prisoner was allowed to go free.