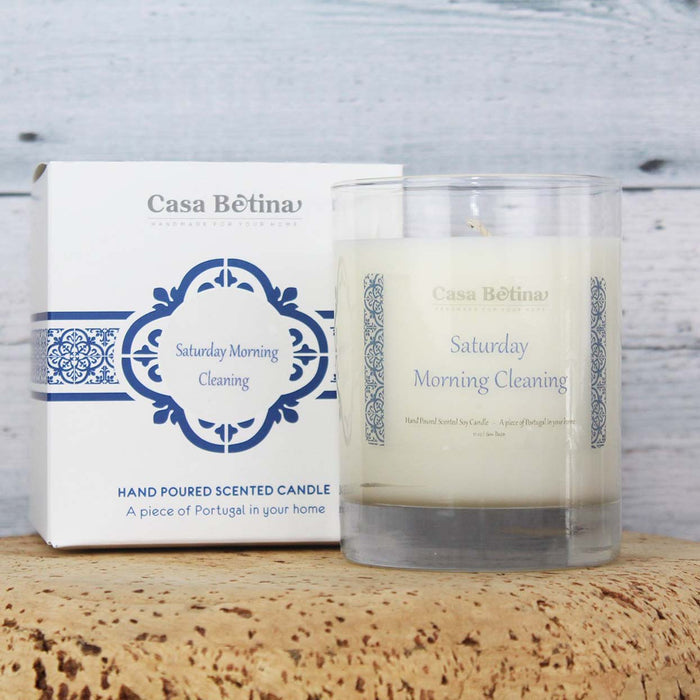 Saturday Morning Cleaning Aromatherapy Soy Wax Candle
Original price
$ 20.99
-
Original price
$ 20.99
ShopPortuguese.com is excited to join forces with Canadian (and Luso-owned) company, CASA BETINA to bring our customers the one and only Saturday Morning Cleaning Aromatherapy Soy Wax Candle. 
This candle is reminiscent of growing up in a traditional Portuguese household.  Saturday morning was sacred for cleaning the house, the smell of lemon pledge, Avó's flowery potpourri permeated through the house. For those of us who share this tradition, you will definitely relate! 
Formulated with pure essential oils with no added chemicals that have been extracted from flowers, barks, leaves and fruits, and then steam distilled using the most artisanal methods available. 

Sweet Lemons from the central Portugal, where the mild year round climate provides the sweetest and most fragrance fruits. 
Candles with essential oil blends will not provide as strong a hot throw as the traditional mainstream candles made with paraffin wax (petroleum based).  Essential oil binds with the wax and gives off a naturally enticing aroma providing the health benefits without an overpowering fragrance, a must especially for those who suffer from asthma, allergies or do not enjoy strong scents. 
Vessel: Reusable Glass  

3.25"W x 3"H with Portuguese cork lid



Burn time:  About 60+ hours depending on care candle 

Wax & Wick:  Premium soy with cotton wick (never any dyes or enhancers)